Bathroom Renovation Adelaide
Fawcett Plumbing can help you with your bathroom renovation Adelaide. Affordable pricing, pensioner discounts and payment plans available. Guaranteed work. Fully qualified tradesmen. Great customer service.
Bathroom Renovation Adelaide
The Fawcett Difference...
If you're looking for experts in bathroom renovations in Adelaide, call Fawcett Plumbing. We have over 18 fully trained and qualified plumbing technicians.
We are on call 24 hours a day, 7 days a week. Our highly skilled and fully licenced Adelaide plumbers have over 250 years of combined experience in the plumbing industry.
Whether you have small or major bathroom renovation, Fawcett Plumbing can help get your bathroom working and looking just the way you want it.
Had Troy come out and replace my hot water unit. I phoned in the morning with no hot water and I was up and running again by the afternoon. Very very happy with the prompt and efficient service that I received. 10/10 would recommend!!
Had a new power board and down lights installed....price quoted was very reasonable, workmanship excellent and Andrew was efficient and ran me through everything I needed to know. I have used the Fawcett Group before and they continue to carry out 1st grade work. Highly recommend.
Called this morning about a blocked pipe in the bathroom and Ian was at my place by 12pm. Worked his magic and sorted our issue perfectly. Very informative and professional. Highly recommend Ian and the Fawcett Group.
How to SAVE money and Avoid Being Ripped Off When Hiring Your Plumber
BONUS GIFT: Get A $50 Voucher inside to use on your next service!
Bathroom Reno On A Budget?
A bathroom renovation is a very daunting job to tackle. With the average bathroom renovation ranging from $10,000 to $30,000, it's not something that you want to take lightly. A great result that will add value to your home, but a renovation disaster will cost you even more money. 
A bathroom reno budget depends on the space that you are working with and your choice in fixtures and finishes etc. After all, besides the kitchen, it is the most important room in the house in terms of adding value to your property.
If you're like most people and are keeping to a tight budget it's important to manage costs. There's an endless list of things you can put in your bathroom from recess baths freestanding baths, his and her basins and mirrors etc.
Planning Your Bathroom Renovation
You need to know where it's important to invest the extra cash and where you can save without compromising your renovation. The key is planning. You know what they say, prior planning prevents poor performance! If you sit down and plan everything before you start, from the fixtures and tiling to the plumbing and electrical, you should have a pretty accurate figure of what you'll be looking at spending. 
Life is full of surprises and a bathroom renovation (or any kind of renovation for that matter) is no exception. That's why it's wise to allow roughly an extra 15% on top of your budget for any unexpected work that may arise along the way. This could include some old plastic pipes and fittings that may be due for replacement to avoid leaks or altering pipework to ensure the new shower fits correctly.
As a rough guide, for a full bathroom renovation, you should be spending:
40% of your total budget on fixtures 
35% on tiling 
20% on plumbing and 
5% on the electricals
However, bear in mind, unless you have the professional skills yourself, you are likely to spend a good chunk of your budget on the required trades. Choosing your tradesmen carefully will be money well spent. It would be extremely foolish to compromise on the quality of your renovation with poor quality work from carpentry, electrical work or plumbing trades.
Your Blocked drain Fixed in 3-Easy Steps...
We've made it really easy to get your blocked drain fixed, so you can tick it off your to-do-list and get on with life…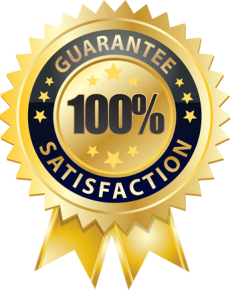 Here at Fawcett Plumbing our customers satisfaction is our #1 focus! Therefor in the unlikely event you're not 100% happy with the job we've done renovation your bathroom, simply let us know and we'll fix or repair the issue for free until your 100% satisfied.  – That's the Fawcett Promise.
Considering bathroom fixtures take up nearly half of your budget, the fixtures and fittings that you decide to use play a very big role. They can make or break both your budget and your bathroom design, so it's worth taking time to carefully select the ones you want. If you're on a tight budget, this is where you can save a bit of money but you want to be careful not to save too much money. 
Make sure your cabinetry, replacement toilet and bathtub don't take too much of a hit. Having ample storage space in your bathroom is essential, this means you'll want enough space in whatever vanity unit you decide, as well as plenty of shelving. Opting for a wall hung vanity will free up floor space and give the illusion of a bigger bathroom. If you're looking at installing a bathtub, it might be worthwhile investing in a freestanding tub to give your bathroom a touch of luxury but make sure you have room for it in your budget.
Make sure the electrical components of your bathroom renovation aren't overlooked when it comes to planning your budget. This can include your power points and light switches, exhaust fans, downlights etc. Having the correct lighting for your bathroom is important, it will create ease for your everyday tasks such as shaving, putting on make-up and brushing your teeth. 
If you've got a tight budget, this is one area you may be able to simplify and save some money in. As most of your morning bathroom activities centre around the basin and your mirror, having wall lighting fixtures will effectively illuminate the area. If you're looking at adding heated towel rails but are a little worried about the running costs, installing a timed eco wall switch is a very simple energy efficient way of saving some money.
How you choose to tile your bathroom can depend entirely on the space you have to work with. If the space is large, you might need cheaper tiles, if the space is smaller, you could probably afford tiles that are a bit more upmarket or you could tile from floor to ceiling which can easily improve the value of your home. 
Tiles can cost anywhere between $30 to $200 per square metre. If your budget is a little more generous, you could even go with a complex design like mosaics or herringbone, which look stunning. Be sure to professionally waterproof the areas around your toilet, vanity, shower and bathtub otherwise you might risk the integrity of your floors and walls. If you don't feel like you need to replace your tiles, you could choose to re-grout instead of completely re-tiling. This would be an way to save some money if required.
If you've got a restricted budget and are looking at saving money wherever you can, don't do it with plumbing. Bathroom plumbing is not the area in which you want to be cutting corners. Poor plumbing can lead to a variety of issues down the track and the issues can cost a lot more than the initial installation cost. 
You'll also find that any warranty is void if plumbing fittings are not professionally installed. So it's wise to make sure you're getting quality work done when it comes to the plumbing side of the renovation.
All in all, a bathroom makeover may seem a daunting experience but with the right help, you'll find the process smooth and easy. The Fawcett Group can work with you from the very beginning to set a budget, work out what fixtures you like, what tiles you would like installed etc and we do our absolute best to take the worry away. Give us a call on 1300 329 238 or send your details to us on our Contact Us page and we'll get back to you straight away.
Bathroom Renovations FAQs
Well, how long is a piece of string? Whether your bathroom renovation costs a few grand or a few wads of $10,000 depends not only on the size of the room and the scale and complexity of the project, but factors including:
Material quality
The chosen fittings & fixtures
Labour costs.
Australia's Housing Industry Association lists the average cost of a bathroom renovation in Australia as $17,000, but you can certainly spend a lot less and lot more as well.
At the lower end of the scale, with budgets limited to the single-digit thousands, the renovation may be more cosmetic than top-to-bottom comprehensive and involve shopping around for some of the more expensive items. For the materials and fittings you've really got your eye on, expect to spend above $10k.
That's actually a very good question, because there is no such thing as an all-in-one bathroom renovation tradie. However, a plumber will do a lot of the hard work, including getting those water outlets ready and installing the critical fittings including toilet, bath, taps & shower. They will also be able to help with the critical matter of waterproofing.
You may also need an electrician for the lights, power outlets and ventilation/heating infrastructure, which may involve new wiring as well as installation. Finally, professionals who are experts in tiling, carpentry, cabinet making, plastering and painting may be handy.
We actually recommend going to a plumber who specialises in bathroom renovation and asking for their advice and contacts so you can complete the job more holistically rather than trying to individually contact a shopping list of tradies.
This question is very similar to asking about the cost of a bathroom renovation – because the answer can differ wildly depending on the scale and complexity of the job. If you want an accurate prediction for the project you've got in mind, the best thing to do would be to call a bathroom renovation specialist in the plumbing or building industry and get their thoughts.
The answer you're likely to get could be pleasingly short, or it could actually be anything up to two or even more months! Generally, you need to budget for the idea that it will take a couple to a few weeks at least – and then factor in some delays, problems, and longer-than-expected preparation, drying and finishing times.
The best advice we can give is to be prepared for your bathroom to be out of action for an extended period of time, because the various elements of a typical bathroom renovation will each take a couple to a few days each, including:
Removing the old bathroom
Repairs/preparation
Plumbing
Electrical side
Plastering
Painting
Tiling
Fitting/flooring.
Get A Price For Your Bathroom Reno
Simply complete the form below, and tell us more about the work you require. We'll then review it and get a FAST quote out to you within 24 hours