Fawcett Plumbing provides Strata Plumbing Services to a range of residential and commercial strata properties. Our fully licensed plumbing service team can take care of all your needs, including providing ongoing maintenance as well as emergency plumbing.
Simply complete the form below & we'll get a quote to you within 24-Hours. For all emergency services, call 1300 328 238.
One Call For All Your Strata Plumbing Requirements
Professional & Reliable Strata Plumbing Services in Adelaide
The complex world of strata management is hard enough to navigate without worrying about strata plumbing responsibility. That's why the experienced strata plumbing services at Fawcett Plumbing want to make life that little bit easier for industry professionals and strata residents with straightforward, stress-free, affordable strata plumbing services.
Our highly specialised strata plumbing services are uncomplicated, proven, and based on discretion and rich communication, because it's crucial to:
Communicate quickly, openly and discretely with busy strata managers and anxious residents
Be there when strata managers and residents need us the most
Attend to and complete every job with a commitment to speed, reliability, creative problem-solving, ethics and affordability
Manage complex and fully professional business and client relationships
Strata and Real Estate Plumbers Adelaide
We have been providing friendly & dependable strata & real estate plumbing for many years.
Don't take our word for it.. Read what our clients say about us...
Tracey Paysen
20 January 2023
These guys, Jamie and Luke, were very professional and polite, excellent service
Kimberly Bonython
10 January 2023
This is the third time I have used the Fawcett Group and the whole crew did an amazing job with renovating my bathroom/toilet/laundry areas all because of a leaking problem and I couldn't be more thankful for the wonderful job they have done. They were all professional, polite and let me know step by step what was happening! Thank you so much!
Great work from Reece & his partner on the day. Had the job quoted by Joszef on Wednesday, and able to get Reece in on the Friday before Christmas for a BIG day's work. Unbelievable response time & great work from the guys. Can't recommend highly enough - everything is working like a dream, and the place was left cleaner when they started. Really impressed & will be back!
Chrissy Baines
15 December 2022
Great job Dave and Ash, very professional. It was a very long day and they stayed until the job was done
Viv Williams
14 December 2022
Very professional company from start to finish. Reliable and punctual employees.
TRAN PHILUC
12 December 2022
Good service, professional, friendly staff
Jack Otto
11 December 2022
Electrical switchboard repairs
Neville Patten
6 December 2022
Satisfactory replacement of toilet. Satisfactory removal of rainwater tanks. Get every detail which is important to you in writing. Person who supplies the quote does not perform the work, resulting in misunderstandings.
For dependable and professional service for all your strata or property-managed plumbing needs across Adelaide, call Fawcett Plumbing today.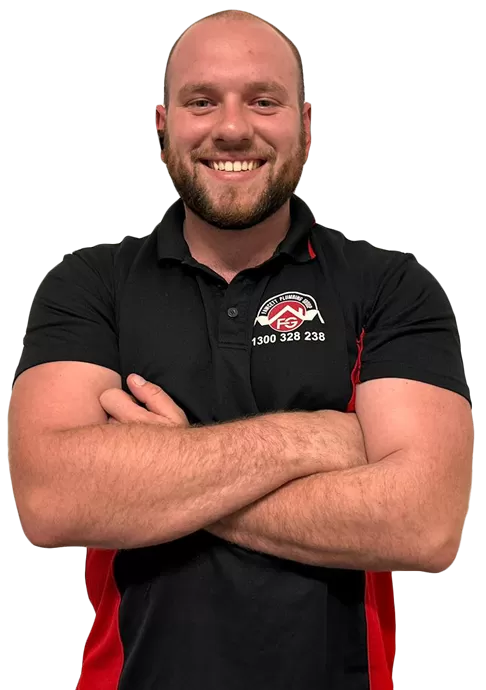 Specialists in Strata Plumbing
Did you know there are literally millions of strata titles in Australia, including townhouses, units and commercial properties? Strata titles are land with commonly-owned and shared areas which are divided into individually-owned houses and units – which sounds complex enough already. But while well managed strata communities make for a stress-free life, that can be seriously endangered by all those small, large and recurring plumbing problems that can occur every day – from blocked drains and pipe breakages to leaks, hot water problems, midnight and weekend plumbing emergencies.
Fawcett Plumbing's renowned local services in strata management plumbing represent Adelaide's Gold Standard for the savvy strata manager, company or client. We work day and night, with all the best equipment and skills and years of on-the-ground experience in every strata plumbing issue, to make lives easier and smoother for everyone.
Discover our Strata Plumbing Services?
Across and beyond the spectrum of business and the local community, Fawcett Plumbing's trained, well-presented and friendly Adelaide plumbing team can be trusted to support a growing number of reputable clients throughout the industry. While some Adelaide plumbers lack our highly-specialised and strata-specific experience and expertise, we've taken the time to build and seek mutually-beneficial and lasting relationships with strata businesses, managers, consultants and other industry professionals.
In collaboration with Fawcett Plumbing, we will ensure every common and uncommon plumbing problem is handled quickly, smoothly and discretely.
We guarantee:
Quality, specialised, all-in-one strata plumbing services
Guaranteed workmanship and 24/7 emergency availability
Industry-leading pricing and customer service
Communication-rich, ethical, discreet services with integrity and the personal touch
Dependable maintenance, servicing, repairs, installations and other strata plumbing services.
What sets our Strata Plumbing Services apart?
There are plenty of Adelaide plumbers offering strata-related services, but not all have years of real-world experience and a commitment to constantly evolving our simple, dependable, ethical and speedy process for both strata managers and residents.
Fawcett Plumbing is committed to:
Responding immediately
Simplifying and accelerating the order/quote/booking process
Flexibility to suit strata manager & residents' availability
Keeping all involved parties fully informed from start to finish
Resolving strata plumbing issues with speed, respect and simplicity.
Here at Fawcett Plumbing, we understand just how complicated the lives of strata managers and Adelaide strata residents can be – which is why we just want to make it a lot easier! Our highly trained, fully licensed and eminently professional strata plumbing team knows the industry and all of its legal, regulatory and on-the-ground implications inside out, resulting in a truly specialised and tailored service for every valuable client.
Put your strata plumbing headache in Fawcett Plumbing's hands by getting in touch with our team today.
Simply complete the form below, and tell us more about the work you require. We'll then review it and get a FAST quote out to you within 24 hours.