Adelaide Drainage Solutions
Fawcett Plumbing can help you with your stormwater drainage solutions Adelaide. Affordable pricing, pensioner discounts and payment plans available. Guaranteed work. Fully qualified tradesmen. Great customer service.
Simply complete the form below, tell us about your plumbing needs & we'll get back to you as soon as possible. For all emergency requirements, call 1300 328 238.
Drainage Solutions Adelaide | Book A Local Plumber Today!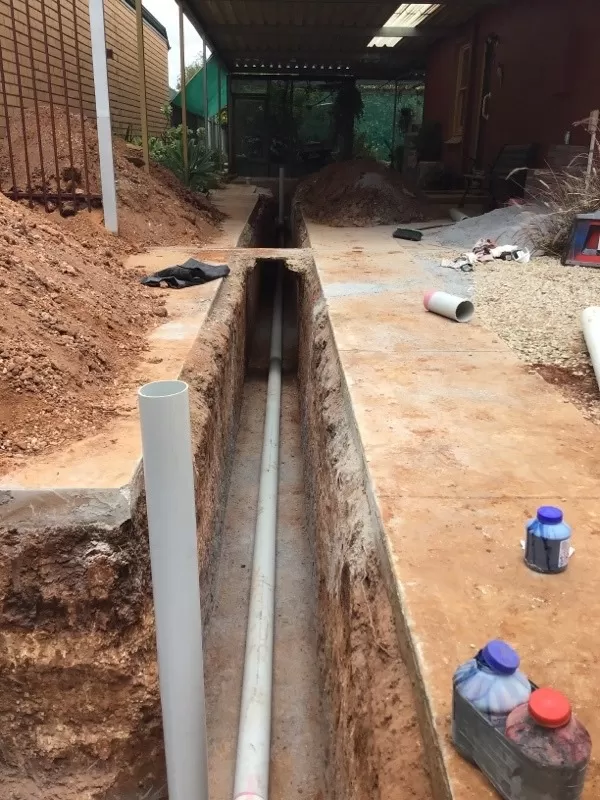 Fix Or Install Stormwater Drainage With Fawcett
The Fawcett Difference...
When it's not bucketing down, it's all too easy to stop worrying about stormwater altogether. But while stormwater management outside your front gate may be your local authorities' responsibility, it's a major mistake to underestimate just how crucial your property's stormwater drainage solutions are.
We're talking about that complex network of systems inside the boundaries of your property that move the rainwater from your roof and away from your home and foundations. Namely, your:
Roof
Gutters
Downpipes
Drains
Water collection systems
Stormwater connections
Stormwater pits.
Are your stormwater solutions fit to task or you going to be knee-deep in damaging, unhealthy and unmanaged stormwater the next time Adelaide's skies open?
Have you noticed:
Slow-to-drain or inefficient stormwater management?
Flooding or pooling water?
Water running onto neighbour's property?
Sinkholes, structural damage, dampness – or worse?
What our customers say about us...
Tracey Paysen
20 January 2023
These guys, Jamie and Luke, were very professional and polite, excellent service
Kimberly Bonython
10 January 2023
This is the third time I have used the Fawcett Group and the whole crew did an amazing job with renovating my bathroom/toilet/laundry areas all because of a leaking problem and I couldn't be more thankful for the wonderful job they have done. They were all professional, polite and let me know step by step what was happening! Thank you so much!
Great work from Reece & his partner on the day. Had the job quoted by Joszef on Wednesday, and able to get Reece in on the Friday before Christmas for a BIG day's work. Unbelievable response time & great work from the guys. Can't recommend highly enough - everything is working like a dream, and the place was left cleaner when they started. Really impressed & will be back!
Chrissy Baines
15 December 2022
Great job Dave and Ash, very professional. It was a very long day and they stayed until the job was done
Viv Williams
14 December 2022
Very professional company from start to finish. Reliable and punctual employees.
TRAN PHILUC
12 December 2022
Good service, professional, friendly staff
Jack Otto
11 December 2022
Electrical switchboard repairs
Neville Patten
6 December 2022
Satisfactory replacement of toilet. Satisfactory removal of rainwater tanks. Get every detail which is important to you in writing. Person who supplies the quote does not perform the work, resulting in misunderstandings.
Fawcett Plumbers Adelaide
Family owned and operated, we are a name you can trust to be the fastest and most reliable plumbing services near you.
Fawcett Plumbing are the drainage specialists Adelaide trusts
Here at Fawcett, where we always offer friendly and fully-licensed Adelaide plumbing services at the best price, we're the trustworthy local experts in stormwater drainage Adelaide wide. For years upon years, we've been assessing residential and commercial drainage solutions Adelaide wide and helping people just like you with:
Storm debris & tree root blockages
Badly installed or damaged stormwater solutions
Inappropriate stormwater infrastructure
Collapsed or degraded stormwater systems
Land erosion, garden damage, water contamination
Uncontrolled or poorly-managed stormwater.
If you think your stormwater systems are lacking but the only risk is a puddle or two or a little stream onto the road or under the neighbour's fence, it's time to think again. Here at Fawcett Plumbing, we've lost count of the little stormwater problems (like a blocked stormwater drain) that become big ones – including fully saturated ground that can have a highly destructive effect on a property's foundations.
Pooling water is also unhealthy, ramping up your risk of contamination, mosquito breeding, and the risk of disease and other ill health effects. Stormwater that has travelled from your roof to wherever it is spilling or pooling can also be contaminated with chemicals and other pollutants, harming your family or local community.
Is it time to give an experienced, trained, insured and fully-licensed mater in stormwater drainage Adelaide wide? You may need a thorough stormwater system checkup or some drainage services like blocked drain cleaning or gutter repairs and other modifications if you notice:
Damp or wet patches in and around your property
Damp, wet, cracking or subsiding foundations
Damp, wet, sinking or cracking walls
Water trickling or pouring out of your gutters, downpipes & drains
Weeds growing out of your gutters.
If any of that sounds familiar, your race is on to beat the next heavy Adelaide downpour – and a potential mess, property and asset damage, trouble with the neighbours, and a disruption to the smooth running of your life or business. If you're not sure, get a quick and affordable check-up, and if your problem is minor, don't let it develop into something that could cost thousands to repair and clean up.
When assessing your stormwater drainage solutions, we'll consider your:
Property and area
Roof & stormwater setup
Landscaping
Paths & driveways
Every other aspect.
Here at Fawcett Plumbing, we offer the stormwater drainage solutions Adelaide can really trust. We always turn up on time, we always clean up, and we guarantee the quality of our workmanship – or we'll fix it for free! So for a great price, fast work and a smile every time, call the masters in drainage Adelaide wide right here at Fawcett.
For all your drainage problem, contact Fawcett Plumbing. We provide complete drain solutions.
Simply complete the form below, and tell us more about the work you require. We'll then review it and get back to you as soon as possible. For all emergency requirements, call 1300 328 238.