Have a Plumbing or Gas Emergency? Talk To A Highly Trained Local Gas Plumber Near You Now!
Our gas plumbing services are on call 24×7 – 365 days of the year to HELP YOU with any plumbing and gas fitting crisis. Call us now and speak to one of our local gas plumbers and know that help is on its way!
Gas Leak Repairs Adelaide
Natural gas barbecue installations
Gas connections and conversions
Gas appliance installations – cooktops, stoves, ovens
General gas fitting, repairs and replacements
Gas hot water system installation, supply, repairs
Home Gas heaters installed
Simply complete the form below & we'll get a quote to you within 24-Hours. For all emergency services, call 1300 328 238.
24/7 Gas Leak Repairs Adelaide
It's how you cook your food, heat your home, get instant hot water and make your life convenient, comfortable and safe. Your home or premises runs smoothly thanks to gas fitting services and appliances, and we'll keep it that way!
Need a new appliance or gas fitting installation?
Is your gas heating or cooking on the blink?
Doing renovations or upgrading?
Have you noticed unusually high gas bills?
Smell gas or need a gas leak repair?
Need a new gas line or connection put in or modified?
Do you need a gas plumbing service near you? Fawcett Plumbing are your local Adelaide plumbers, with a team of experienced and fully licensed gas plumbing professionals. From repairs, installations, emergencies and so much more, our full range of gas fitting services will keep you cooking with gas every single day.
Local Gas Plumber Near Me - Available 24/7
For every single one of your gas needs, the only name you need to know is Fawcett Plumbing – give us a call today.
Don't take our word for it.. Read what our clients say about us...
Tracey Paysen
20 January 2023
These guys, Jamie and Luke, were very professional and polite, excellent service
Kimberly Bonython
10 January 2023
This is the third time I have used the Fawcett Group and the whole crew did an amazing job with renovating my bathroom/toilet/laundry areas all because of a leaking problem and I couldn't be more thankful for the wonderful job they have done. They were all professional, polite and let me know step by step what was happening! Thank you so much!
Great work from Reece & his partner on the day. Had the job quoted by Joszef on Wednesday, and able to get Reece in on the Friday before Christmas for a BIG day's work. Unbelievable response time & great work from the guys. Can't recommend highly enough - everything is working like a dream, and the place was left cleaner when they started. Really impressed & will be back!
Chrissy Baines
15 December 2022
Great job Dave and Ash, very professional. It was a very long day and they stayed until the job was done
Viv Williams
14 December 2022
Very professional company from start to finish. Reliable and punctual employees.
TRAN PHILUC
12 December 2022
Good service, professional, friendly staff
Jack Otto
11 December 2022
Electrical switchboard repairs
Neville Patten
6 December 2022
Satisfactory replacement of toilet. Satisfactory removal of rainwater tanks. Get every detail which is important to you in writing. Person who supplies the quote does not perform the work, resulting in misunderstandings.
Professional, Licenced & Reliable Gas Plumbers in Adelaide. Call Fawcett Plumbing on 1300 328 238.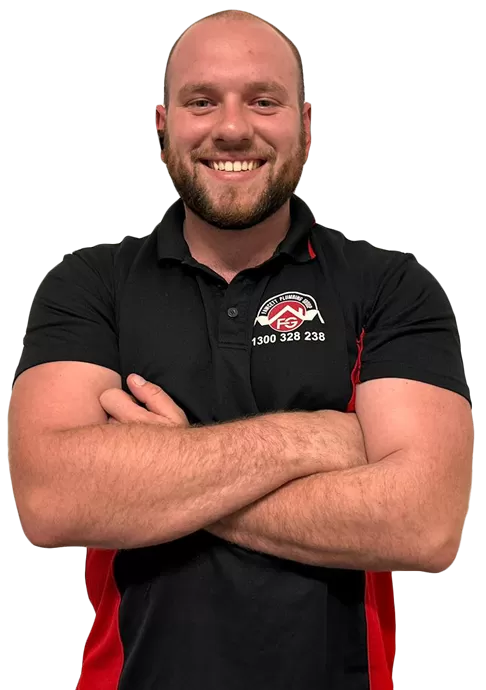 Do you have a gas leak emergency?
Gas leaks are a serious concern that require immediate attention. If you suspect a gas leak in your home or business, don't delay – call the experts at Fawcett Plumbing right away. We specialise in fast and reliable gas leak repairs to ensure the safety of your property and loved ones.
Because every second counts, don't hesitate and dial 1300 328 238 NOW!
Do you smell gas or suspect a gas leak? Take the following steps and call a 24 hr emergency gas plumbing service near you now.
Stop what you are doing
Turn off the gas at the meter
Quickly move away from the problem
Call 1300 328 238 NOW.
When it comes to gas leak repairs, trust the experts at Fawcett Plumbing. Your safety is our priority, and we are committed to delivering fast, reliable, and professional service. Contact us immediately if you suspect a gas leak, and let us handle the rest. Your peace of mind is just a phone call away!
Gas Heater Servicing & Replacement
Fawcett Plumbing can service, and repair all makes, models and styles of gas heaters. We highly recommend servicing your gas heater every 12 months to ensure efficiency, safety, and longevity. Our gas heater service includes but is not limited to:
Dismantle, clean, and visually inspect the unit for cracks/damage
Confirm the gas heater is operating correctly and as intended
Adjusting gas pressures as required
Checking the safety device
Re-assemble and perform operational checks
Complete Gasfitting Services
Sub-standard gas fitting services put your hip pocket, your property, your business and even your life at risk – so don't take the gamble. Gas is an efficient, reliable and affordable source of energy, but gas fitting installations and repairs must by law be done correctly the first time.
Fawcett Plumbing's skillful and fully qualified and accredited gas plumbers are standing by to install your gas appliances, safely repair your gas fitting services, and fulfil all your other gas fitting needs. Our prices are always as low as possible, our workmanship is always guaranteed, and we are always carrying the best and latest technology, tools and parts. We service every suburb in Adelaide southern suburbs, Adelaide northern suburbs, Adelaide Hills and across the state!
When it's all running smoothly, gas systems are safe, reliable and make life more comfortable and convenient. But when things go wrong, it's not just a disruption – gas problems can be unhealthy, dangerous and devastating. That means you need to know a gas plumber in Adelaide who you can really trust for care, quality and a safety-first approach – not to mention affordable solutions that are guaranteed.
Need a Gas Plumber? Contact Fawcett Plumbing Today!
Simply complete the form below, and tell us more about the work you require. We'll then review it and get back to you as soon as possible. For all emergency services, call 1300 328 238.