Fawcett Plumbing is your trusted local gutter cleaning experts dedicated to keeping your property safe and protected from the perils of blocked gutters.
Book your next gutter cleaning with the Fawcett Plumbing today!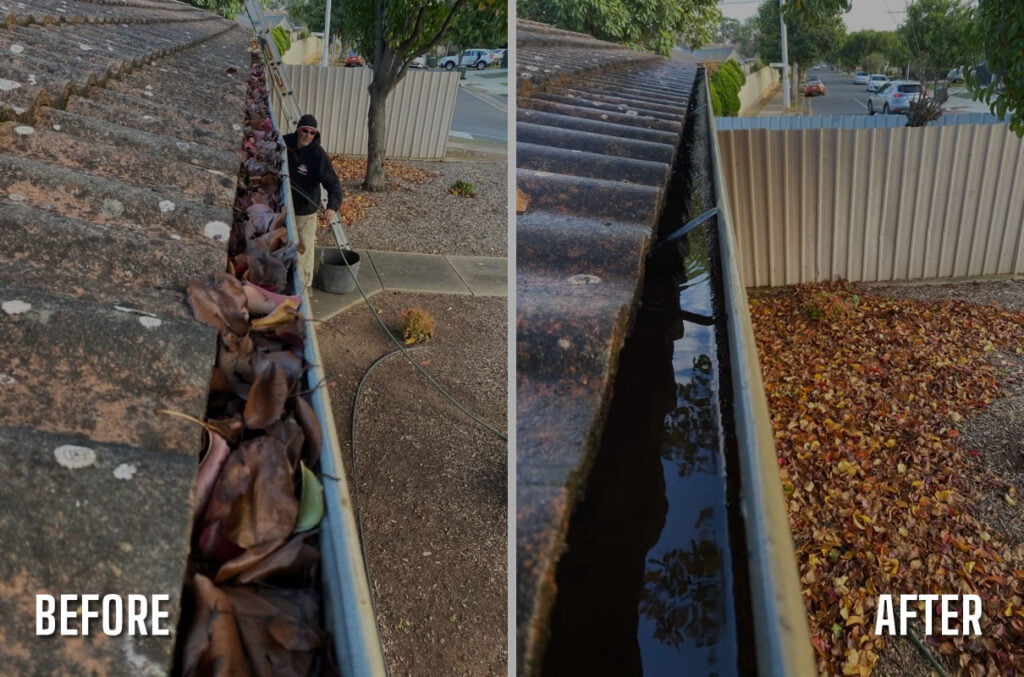 The importance of clean gutters
Gutters play a crucial role in safeguarding your property from potential water damage. When leaves, dirt, and debris accumulate in the gutter system, they create clogs that hinder the smooth flow of rainwater. This can lead to water overflow, which may result in costly damages to your property's exterior, foundation, and even the interior. Properly cleaned gutters prevent water from seeping into unwanted areas, protecting your investment and preserving the structural integrity of your property.
Roof Gutter Cleaning in Adelaide
Fawcett Plumbing provide a range of roof & gutter maintenance services across metropolitan Adelaide. Our team serves residential, commercial, industrial & government properties, as well as properties managed by real estate agents.
Customer satisfaction is at the heart of what we do. Our friendly and courteous team strives to provide the highest level of customer service, addressing all your queries and concerns promptly and professionally.
Don't take our word for it.. Read what our clients say about us...
Tracey Paysen
20 January 2023
These guys, Jamie and Luke, were very professional and polite, excellent service
Kimberly Bonython
10 January 2023
This is the third time I have used the Fawcett Group and the whole crew did an amazing job with renovating my bathroom/toilet/laundry areas all because of a leaking problem and I couldn't be more thankful for the wonderful job they have done. They were all professional, polite and let me know step by step what was happening! Thank you so much!
Great work from Reece & his partner on the day. Had the job quoted by Joszef on Wednesday, and able to get Reece in on the Friday before Christmas for a BIG day's work. Unbelievable response time & great work from the guys. Can't recommend highly enough - everything is working like a dream, and the place was left cleaner when they started. Really impressed & will be back!
Chrissy Baines
15 December 2022
Great job Dave and Ash, very professional. It was a very long day and they stayed until the job was done
Viv Williams
14 December 2022
Very professional company from start to finish. Reliable and punctual employees.
TRAN PHILUC
12 December 2022
Good service, professional, friendly staff
Jack Otto
11 December 2022
Electrical switchboard repairs
Neville Patten
6 December 2022
Satisfactory replacement of toilet. Satisfactory removal of rainwater tanks. Get every detail which is important to you in writing. Person who supplies the quote does not perform the work, resulting in misunderstandings.
Book your next gutter cleaning with Fawcett Plumbing
Simply complete the form below, and tell us more about the work you require. We'll then review it and get back to you as soon as we can.
Our gutter cleaning services includes:
Gutter Inspections
Gutter Cleaning
Box Gutter Repairs & Installation
Roof Leak Detection
Scheduled Gutter Cleaning
We offer comprehensive gutter cleaning services tailored to suit your specific needs. From removing debris to unclogging downspouts, we leave no stone unturned to ensure your gutters are free-flowing and fully functional.
Equipped with advanced tools and equipment, we work diligently to clean your gutters safely and thoroughly. We follow strict safety protocols, minimising any risk of damage to your property while delivering exceptional results.