Fawcett Plumbing can help you with any plumbing needs in Brighton. We offer Affordable pricing, pensioner discounts and payment plans available. Guaranteed work. Fully qualified tradesmen. Great customer service.
Book A Local Brighton Plumber Now!
Plumbers Brighton | Fawcett Plumbing Available 24/7
Looking for a local and affordable plumber Adelaide service? Fawcett Plumbing has a team of reliable professionals who have been serving the area for the last 33 years.
Having a Brighton local plumber on call whenever you need them is important. That is why our expert teams work around the clock to make sure that all your plumbing needs are met. Whether it for emergencies, regular maintenance, or new installations, we are ready to tackle the job, no matter how big or small it may be.
If you looking for a plumber in Adelaide that you can trust, be sure to give us a call. We are a one-stop-shop for all your residential and commercial plumbing needs.
Don't take our word for it.. Read what our clients say about us...
Tracey Paysen
20 January 2023
These guys, Jamie and Luke, were very professional and polite, excellent service
Kimberly Bonython
10 January 2023
This is the third time I have used the Fawcett Group and the whole crew did an amazing job with renovating my bathroom/toilet/laundry areas all because of a leaking problem and I couldn't be more thankful for the wonderful job they have done. They were all professional, polite and let me know step by step what was happening! Thank you so much!
Great work from Reece & his partner on the day. Had the job quoted by Joszef on Wednesday, and able to get Reece in on the Friday before Christmas for a BIG day's work. Unbelievable response time & great work from the guys. Can't recommend highly enough - everything is working like a dream, and the place was left cleaner when they started. Really impressed & will be back!
Chrissy Baines
15 December 2022
Great job Dave and Ash, very professional. It was a very long day and they stayed until the job was done
Viv Williams
14 December 2022
Very professional company from start to finish. Reliable and punctual employees.
TRAN PHILUC
12 December 2022
Good service, professional, friendly staff
Jack Otto
11 December 2022
Electrical switchboard repairs
Neville Patten
6 December 2022
Satisfactory replacement of toilet. Satisfactory removal of rainwater tanks. Get every detail which is important to you in writing. Person who supplies the quote does not perform the work, resulting in misunderstandings.
Looking For a Reliable Plumber in Brighton? Look no further than the Fawcett Plumbing!
Because we have been providing quality plumbing services across the Brighton and Adelaide area for over 37 years, we have built up a solid reputation around the city as industry experts. Our customers know us as a family-run business that cares.
Providing quality, reliable services are key to us, and we always communicate with our clients first to get a good understanding of their needs. When a plumber Adelaide team arrives at your property for a callout, rest assured that they are fully qualified and insured to take on any kind of job. It is because of our high standards that our customers keep on returning to us over the years.
As you would expect from a top-notch plumbing company in Adelaide, we also offer competitive quotes, same-day repairs, and clear communication without any surprises.
Book A Local Brighton Plumber
Simply complete the form below, and tell us more about the work you require. We'll then review it and get back to you as soon as possible. For all emergency services, call 1300 328 238.
Plumbing Services We Offer
We pride ourselves on the wide range of services that we offer to Brighton and the Adelaide community. No job is too big or too small – covering the full range of plumbing jobs, emergencies, and gas-fitting. Our professional services include:
blocked drain cleaning
tap servicing
gas heater servicing
leaking tap repairs and replacement
toilet repairs and replacement
water and gas leak detection
gas appliance installation
backflow prevention
hydro jet drain cleaning
gas mains upgrades and renewals
gas hot water and electric hot water repairs and replacement
Whether you need a local plumber to tend to your blocked drain emergency or want to hire an expert to perform a complete bathroom renovation, then Fawcett is the name to call. We use the latest in plumbing technology and will work with you to set a budget that suits your needs. Any job that we do, we will ensure that you are happy with the result before we sign off the site.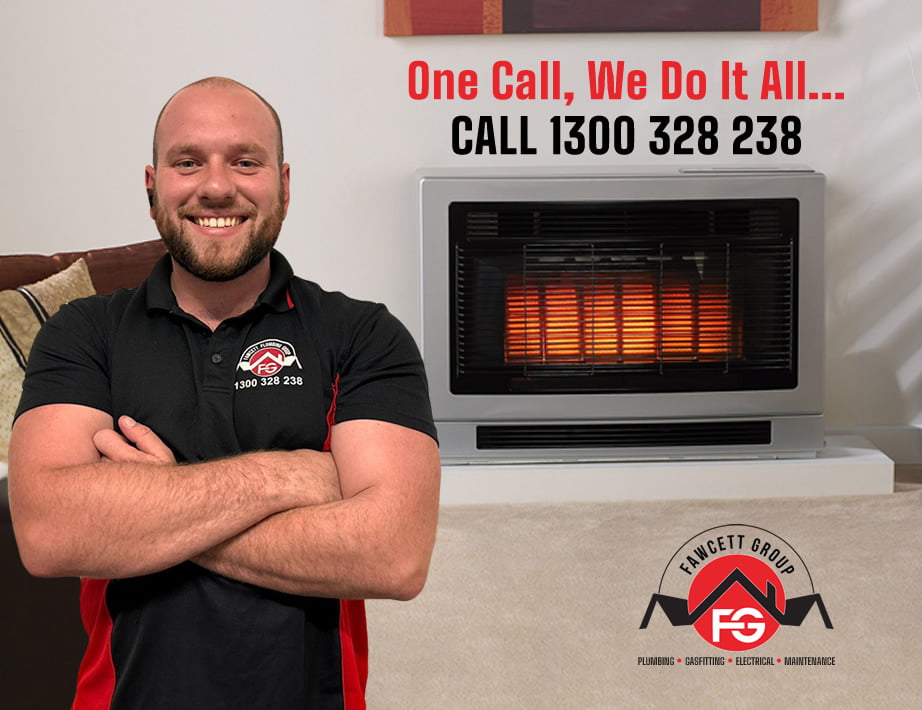 24 Hour Emergency Plumbing in Brighton
Not only do we offer a complete range of plumbing services, but we are also available whenever you may need us. Our team of plumbers are on call 24 hours a day, 7 days a week, meaning that they can handle any kind of emergency that may arise, quickly and efficiently.
We pride ourselves on offering same-day emergency repairs, which means that you will never have to wait around long before a plumber Brighton arrives to attend to your problem. Because our vans are always fully stocked and ready to go, there will never be any delays in responding to your call out.
One of the top priorities of our team is to communicate with our customers and deliver a speedy service. This means that from the moment you call us to when the job is complete, you will always know exactly what is going on, whatever the job or time of day.