Blocked Drains Adelaide Southern Suburbs
Fawcett Plumbing can help you to clear your blocked drains in Adelaide's Southern Suburbs. Affordable pricing, pensioner discounts and payment plans available. Guaranteed work. Fully qualified tradesmen. Great customer service.
Book a Blocked Drain Plumber Today!
Expert Drain Cleaning Adelaide Southern Suburbs
It's been brewing for a while, but finally, it's happened at your place – your drains are all backed up. Oh no! Unfortunately, it happens all over Adelaide's southern suburbs and beyond each and every hour of every day and night – and when that toilet, shower, bath, sink or stormwater drain is clogged up to the max, it will be pretty obvious, and equally devastating!
But don't worry – Our local Adelaide plumbers have seen every sort of drain problem there is, and we can get to your location all over Adelaide's southern suburbs in a jiffy! Our prices are affordable and our workmanship is fully guaranteed – so give us a call right now and give your backed up drains a break.
Looking For Blocked Drain Plumbers in Adelaide Southern Suburbs?
Because we have been providing quality plumbing services across the Adelaide area for over 33 years, we have built up a solid reputation around the city as industry experts. Our customers know us as a family-run business that cares.
Providing quality, reliable services are key to us, and we always communicate with our clients first to get a good understanding of their needs. When our Adelaide Southern Suburbs plumber arrives at your property for a callout, rest assured that they are fully qualified and insured to take on any kind of job. It is because of our high standards that our customers keep on returning to us over the years.
Regardless of whether your backyard is flooding when it rains, or your toilet or basin is backing up, we can help. We're also available for 24 hours, 7 days a week, for when you need us the most. Trust the blocked drain cleaning experts in Adelaide Southern Suburbs and beyond!
Get A Price For Drain Cleaning
Simply complete the form below, and tell us more about the work you require. We'll then review it and get back to you as soon as we can. For all emergency services call 1300 328 238.
Do you think your drains are becoming blocked?
While a totally blocked drain is not difficult to spot, you should always watch out for those early signs – or book a routine plumbing inspection so you can always stay ahead of a problem that can be disruptive, damaging and expensive … and awfully messy.
LOOK out for slow-to-drain toilets, showers, baths, sinks and other drains, and also keep an eye on rising water in the shower or toilet when trying to flush water away elsewhere.
If you SMELL something foul, it could just be your drains and the rotting gunk that lies beneath.
And when you HEAR gurgling from your drains, that's probably air that is trapped in the pipe by a developing blockage.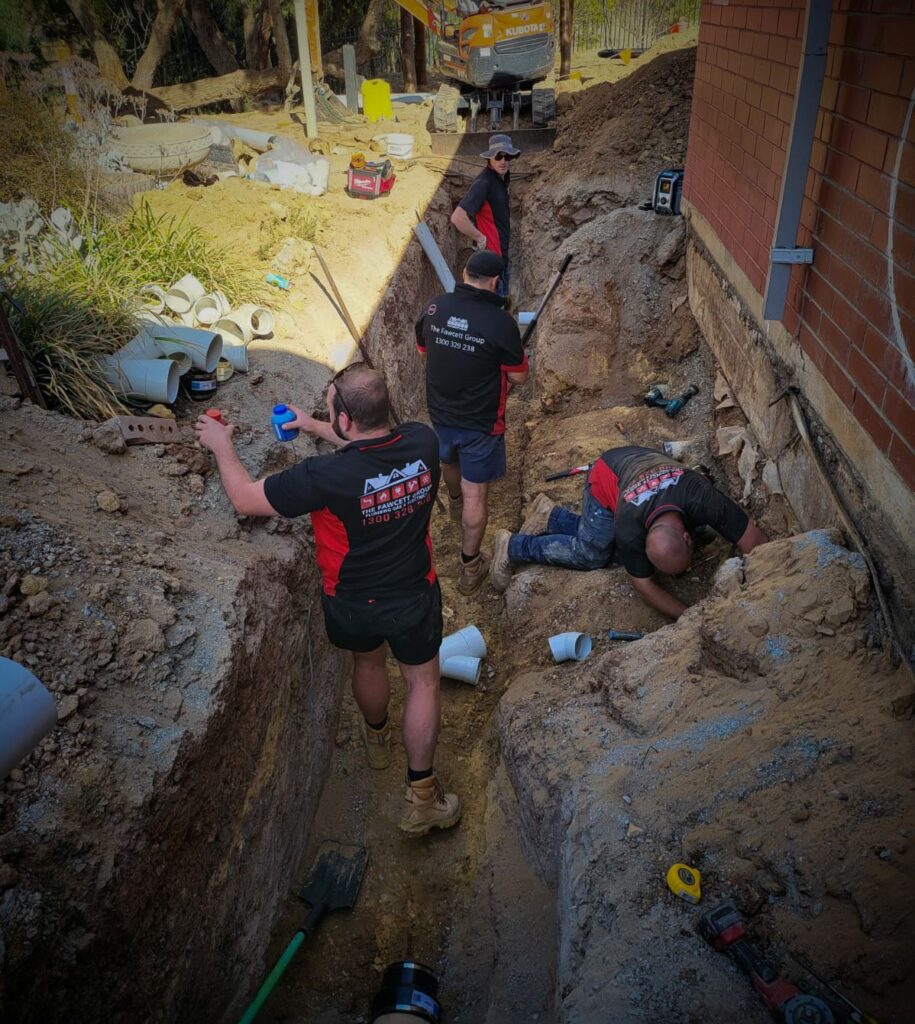 Have you tried a touch of blocked drain DIY?
Here at Fawcett Plumbing, we understand exactly how frustrating and disruptive it can be for the hard-working people and businesses of Adelaide's southern suburbs to be stopped in their tracks by a blocked drain.
Have you tried:
Boiling water?: Add some salt, bi-carb and vinegar to the mix and see if that breaks up the blockage, or try a specific chemical drain cleaner.
A plunger?: Just make sure the seal is tight, and if you're really adventurous, head to the hardware store for a drain snake.
The U-bend?: Blockages are often located in a sink's U-bend, so the confident DIYer might like to take it off and unblock it by hand.
However, for those really stubborn, hard-to-diagnose, harder to access and tricky-to-repair drain blockages, you'll have to bite the bullet and call in the Adelaide southern suburbs' true drain experts. It could well be that your drain isn't just clogged up with gunk or an object, it may have been:
Overloaded
Invaded by a tree root
Blocked by mineral deposits or pipe scale
Damaged or broken by pipe disintegration or breakages
Disrupted by poor plumbing installation
Here at Fawcett Plumbing, we've been in the game for well over 30 years – so just imagine how many drain problems we've seen and fixed! We've worked on all kinds of drains including:
We'll always head out to your place with a fully-stocked van, and all the customary and specialist drain-clearing parts and tools including state of the art CCTV technologies, high-pressure water jetters and innovative pipe relining equipment. We're even on call 24/7 for those true middle-of-the-night clogged drain nightmares – because we understand just how unsettling and even dangerous plumbing emergencies can be.
So don't let a blocked drain get you down, give the friendly team at Fawcett Plumbing a call or drop us an online message today – and we'll be right there!
Fawcett Plumbing and the Adelaide southern suburbs:
Here at Fawcett Plumbing, we feel right at home in Adelaide's southern suburbs! Whether it's down at beautiful seaside Brighton or over to Morphett Vale or Hallett Cove or elsewhere south of the CBD, the southern suburbs is a growing region with great house prices, a diverse lifestyle and scenery – and sometimes plumbing problems. We'll keep your home running smoothly, give us a call today!